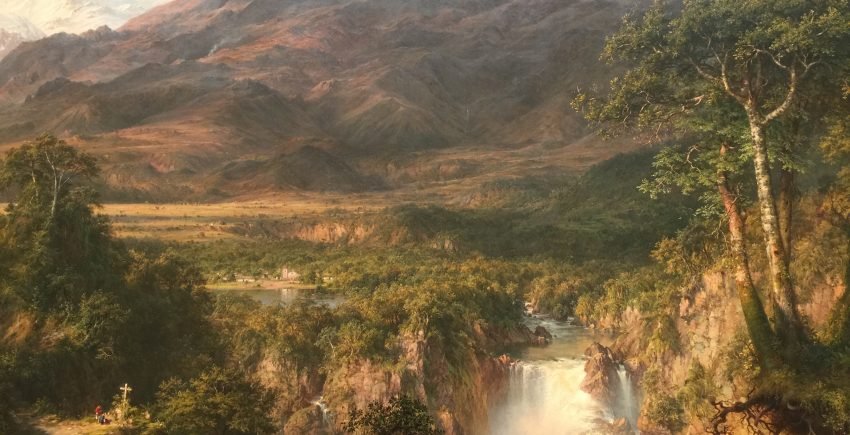 "The Heart of the Andes" is one of America's great treasures in oil, extolling God's creation and putting the wonder of His world on full display at Metropolitan Museum of Art in New York. The artist, Frederic Edwin Church, was a Christian who wanted to show people the wonders of all God had made on earth. At a time when travel was arduous and dangerous, Church set out on extensive journeys to make sketches of the world's most beautiful landscapes. Returning home to New York, he turned his sketches into paintings worthy of any museum on earth. At one point, he was the best-known artist of his time.
One trip in 1857 took Church to  South America, a place rarely visited by North Americans. Returning home, he used his sketches to create a masterpiece called "The Heart of the Andes." A huge painting, it was a composite of Church's impressions of various places, especially in Ecuador. Because so many people wanted to view his canvas and learn what South America was like, Church set up a temporary gallery on a busy New York City street. He surrounded his painting with curtains and palm trees, and gas jets provided light. Thousands of people lined up and paid 25-cents to view the painting. Opera glasses were available to view the scene as though looking at real terrain. From New York, "The Heart of the Andes" traveled to London for a sensational exhibition, before finding its home at the Met, adjacent to George Washington Crossing the Delaware.
Frederic Church was a committed Christian and a member of the Dutch Reformed Church, and he wanted his paintings to reflect the glory of God's creative genius. For that reason, he often placed a cross in his paintings as a token to Him who is the true Creator, Redeemer, and Sustainer of the world. In this painting, there is a very lovely cross, set as a small monument in a grove of trees where two people are worshipping–viewing the grandeur of creation through the eyes of redemption.
Frederic Edwin Church signed his painting by carving his name into a tree on the lower left corner of the canvas. He understood that his profession as a painter was a reflection of God's role as Creator.
No one —  not even the most strident atheist — would visit the Met, look at "The Heart of the Andes," and claim it came into existence by random and accidental forces of splashing paint. No, every brushstroke was designed and crafted with great skill, just as God created every leaf, every drop of water, and every shade of color. Where there is art, there is an artist; and where there is nature, there is a Creator.
The Met also has two other Frederic Church paintings on the same wall — The Parthenon and The Aegean Sea. Another well-known painting, Niagara, is at the National Gallery of Art in Washington.
Next time you're in New York, visit the Met. In the heart of one of the world's greatest museums is "The Heart of the Andes," a towering tribute to the creative skills of a great artist and of a Master Artist.
PS – I'm grateful to Terry Glaspy for putting me onto this painting through his book, 75 Masterpieces Every Christian Should Know.